Please check out the Budget and Business Meeting notes from 2015 that we will be voting to approve at the JAM next week! Business meeting will be held on Thursday February 4th from 4:30-6pm at Little America Hotel in Flagstaff.
2015 JAM Business Meeting notes
---
2016 JAM Student Mentor Luncheon – Call for volunteers
The 2016 AZ/NM Wildlife Society's Joint Annual Meeting is coming right up and we are looking for professionals who are willing to share their knowledge and expertise to the up and coming students that are the future of wildlife management. The Student Mentor luncheon will occur on Friday, February 5th from 11:30-1:00. Students from New Mexico and Arizona colleges and universities are excited to meet professionals and learn about the reality of their future careers. Please contact Holly Hicks and hhicks@azgfd.gov if you would be interested in being a mentor.  Thanks so much!
---
 Registration is here for the 2016 Joint Annual Meeting! 
The Arizona Chapter of The Wildlife Society presents the 49th Joint Annual Meeting of the Arizona-New Mexico Chapter of the American Fisheries Society and The Wildlife Society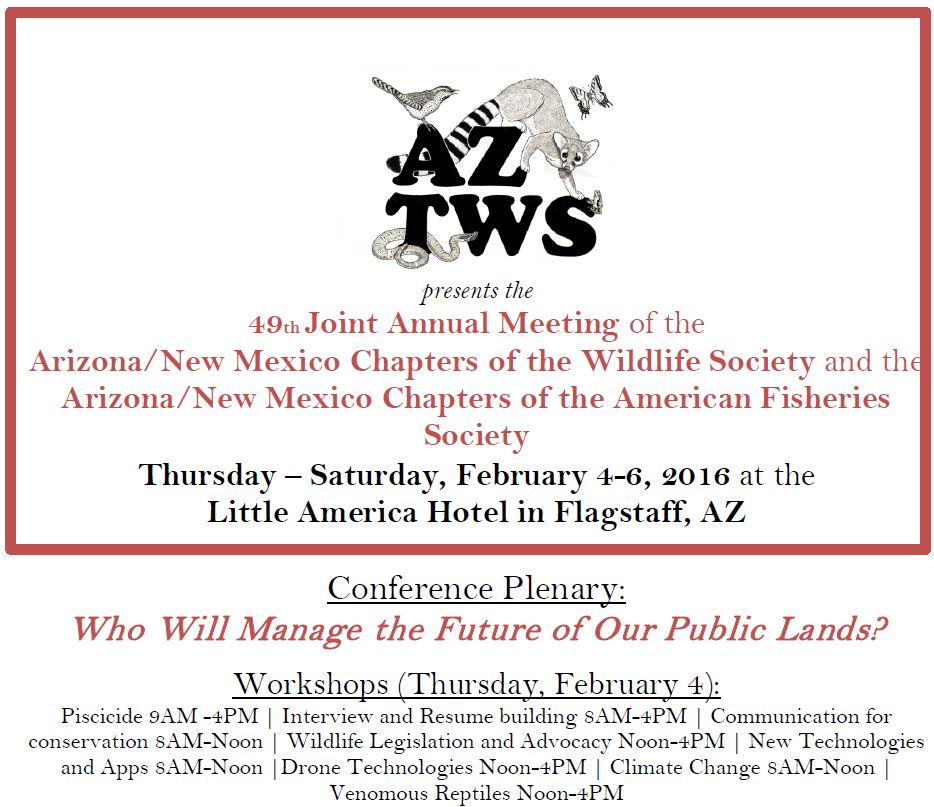 First Call for Papers JAM 2016
Photo and Art Contest JAM 2016
For more information please visit the official AZTWS website or the AZTWS event page